Special Offer: WTD! 2 includes a free copy of Alias (Character Name Generator)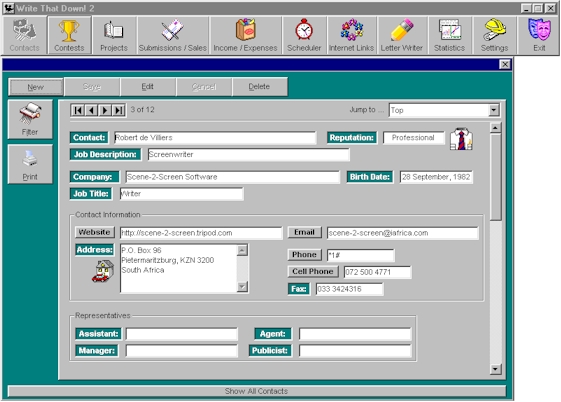 Product Description:
Designed to fulfil those mundane duties every writer despises. Less time wasted organising means more time to concentrate on your writing, pitching and producing. Write That Down! is a project submission tracker, database utility, reminder facility, income and expenses database and more ... all in one.
The headache of knowing who has read, is reading and wants to read your projects is over. Above is a screenshot of part of the "Contacts" database. The layout of Write That Down! is in a scrollable format with a "Jump to ..." button for one-click access to any part of the database.
*Bulk submissions by email, *one-click telephone dialling and follow-up reminders are just a few of the features available. The Letter and Email wizard will walk you through creating a hard copy query letter or an email submission to a specific contact. All emails are automatically logged into the database as query letter submissions.
Write That Down! will even remind you of approaching contest deadlines and options which are set to expire. Once you have customized the database, Write That Down! will automatically set reminders for follow ups on queries and submissions to your industry contacts based on their typical response times.
Screenplay sales in Hollywood for the past 5 years have been logged into the Statistics database ... it's always interesting to know how the seasons affect screenplay sales. Write That Down! will calculate statistics of your sales and submissions, presenting them in an easy to read and understandable format.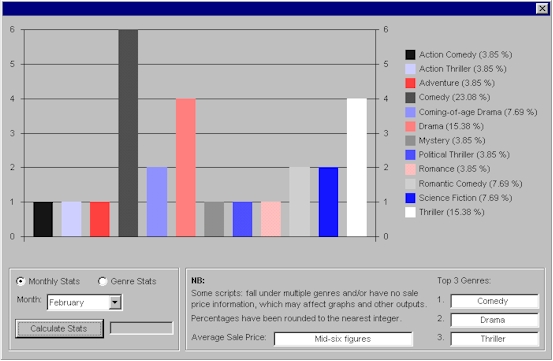 Stored Files allows you to save emails, documents, pictures, etc. with any database entry. Advanced filtering enables you to find exactly what you want with minimum searching and effort. For those who can't part ways with their filing cabinet, the elegantly designed print outs make hardcopies easy to create.
Minimum Software Requirements:
Windows 95/98/NT/2000/ME or XP. 32MB of RAM. 25MB of hard disk space. Pentium or better CPU. Mouse or other pointing device. Internet connection recommended.
User Comments:
"...Love this program. It's perfect for writers, agents, and producers. It's very well organized and exceptionally easy to use."
Margo Prescott
screenwriter / consultant
Website URL: http://mprescott2.tripod.com

"Write That Down! is a joy to use for the fledgling scribe. Before, I had so much paper to juggle. Now, all of my contact and submission information is within easy reach. The printouts are an added treat. Thanks."
Roy D. Meyer
screenwriter
Website URL: http://innercircletv.com/userpages/scribbler.html
* 3rd party non-online emailing utility required, e.g. Outlook Express, Netscape Messenger required for this feature; telephone connected to modem on voice line.